Opening
Hours
Monday – Thursday 8am – 5.30pm
Friday 8am – 5pm
Free 36 Point Check
We offer a FREE 36
point vehicle Check!
Click Here to Book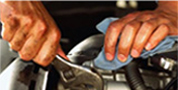 Car Servicing in Nottingham
Our fully equipped garage provides specialist car servicing in Nottingham for all Alfa Romeo, Fiat, Renault, Audi and Volkswagen vehicles. Our professional technicians have many years of extensive main dealer and factory training to bring you the best scheduled and interim servicing packages at highly competitive local rates.

Our car servicing in Nottingham extends to all other vehicle makes and models to include a free 36-point check and report. With six dedicated bays available, we can undertake all services to the latest manufacturer schedules without compromising existing warranties. MGC Servicing offers fast turnaround times and courtesy cars are available for your convenience.
Contact our experts today to find out more about our affordable car servicing in Nottingham.
Click HERE to book your next Service