Opening
Hours
Monday – Thursday 8am – 5.30pm
Friday 8am – 5pm
Free 36 Point Check
We offer a FREE 36
point vehicle Check!
Click Here to Book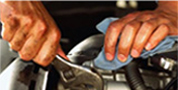 MOT Testing in Nottingham
Since May 2013, we have been providing MOT testing in Nottingham for our valued customer base. MGC Servicing has invested heavily into the latest vehicle technology to become a fully automated testing centre that utilises the latest ATL equipment for the inspection of all petrol and diesel models including vans in the Class 4 category.

We are your friendly specialists for affordable MOT testing in Nottingham with prices starting at just £35. If we have failed your vehicle on its MOT we can offer you a retest service free of charge. MCG Servicing can also undertake any MOT failure work diagnosed by ourselves or even another garage to bring your vehicle up to the standard required for a successful pass in the subsequent inspection.
Visit us today for the most professional and affordable MOT testing in Nottingham and beyond.
Click HERE to book your next MOT