Opening
Hours
Monday – Thursday 8am – 5.30pm
Friday 8am – 5pm
Free 36 Point Check
We offer a FREE 36
point vehicle Check!
Click Here to Book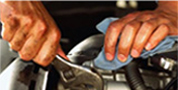 Vehicle Repairs in Nottingham
Make MGC Servicing your number one choice for vehicle repairs in Nottingham and all surrounding areas. We have the skills, equipment and flexibility required to provide repair work of the highest quality at amazingly affordable rates that are amongst the most competitive throughout the entire Nottinghamshire area.

Our vehicle repairs in Nottingham extend to MOT failures and our efficient team of technicians can apply their expertise to brakes and clutches, exhaust systems, catalytic converters, timing belts, wheel bearings and all other vehicle components. We insist on the use of quality OEM or equivalent parts on all of our repair work for your complete safety and peace of mind.
Contact us now and enjoy superior vehicle repairs in Nottingham delivered by experienced trade professionals.
Click HERE to book your vehicle in for repairs