Opening
Hours
Monday – Thursday 8am – 5.30pm
Friday 8am – 5pm
Free 36 Point Check
We offer a FREE 36
point vehicle Check!
Click Here to Book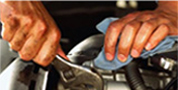 AutoCrew is a concept which Robert Bosch GmbH offers to those independent workshops which qualify.

Testimonials
FIRST CLASS SERVICE AND GENUINE PEOPLE
Value

Quality

Service

Overall
We have taken our VW Golf to these guys on several occassions and received outstanding service. I work for the NHS and need the car for my job. As well as getting discount for NHS staff they provide me with a courtesy car, something the dealer wouldnt give me without 2 weeks notice! There's no jargon just honest advice and NO feeling of being ripped off! I really can't fault Mike and the guys they really do go that extra mile! Thank you all so much for providing fantastic service.
By Claire Riley -
14/09/2012

Honest & Non-Patronising
Value

Quality

Service

Overall
I took my car to MGC Servicing in May this year, after it failed it's MOT due to the passenger headlight beam being too high. The garage which did the MOT had tried to fix it, but told me it would most likely require a new headlight casing. As I work up the road from MGC I popped in their just after lunch before my re-test, and asked their opinion. They took the car in for 5 minutes and it was fixed for free. In addition to this they showed me how easy it was to adjust the headlight beam. As a women I tend to get patronised by garage dealerships, so it was a refreshing change to be spoken to like an intellectual human being and on a one-to-one basis. So even though I live 37 miles away I'll definitely be taking my car to MGC Servicing in the future.
By Kate Webb -
07/07/2012

Amazing service
Value

Quality

Service

Overall
I have been a customer at MGC for many years. Mike and his crew provide the best service at very fair prices and always go that little bit further to make things happen. You get booked in asap mostly same or next day and whether the job is big or small you feel like you're an important customer. Every one of these five stars is well deserved and I wish I could add a few more. :) Thanks, Mike!
By Isi Dixon -
02/05/2012

Excellent
Value

Quality

Service

Overall
A wonderful and very friendly service. Highly recommended. Discount for NHS staff much appreciated!! Mike is a great guy who makes this garage a wonderful place!
By Clare O'Connell -
04/04/2012

Superb service
Value

Quality

Service

Overall
MGC is exactly what you want from a garage: excellent customer service, fast, competent and willing to do small jobs at the drop of a hat. It's refreshing to go somewhere where they clearly want to do a great job for you. I'll definitely be back and definitely be recommending them to my friends.
By Miles Clapham -
29/03/2012

Extra Mile
Value

Quality

Service

Overall
Excuse the pun but MGC have on more than one occassion gone the extra mile for me. Little touches that make a massive difference to me but they do as an added extra free of charge to make you feel like a valued customer. Apart from recognising who you are when you call. I have been using MGC's services for my slightly elderly 206cc for just over two years and I wouldn't go anywhere else. Friendly, welcoming, straightforward and helpful. I also appreciate that all work and parts are comprehensively detailed on my invoice. Five stars, highly reccommended.
By Maxine Chenoweth -
29/03/2012

Excellent Business ethics
Value

Quality

Service

Overall
My Local Renault dealer is 10 minutes from my house yet I choose to make a 2 hour drive to MGC for my car servicing. "nuff said" Having an obscure vehicle (Renault Avantime) MGC have taken the time to understand the in's and out's of a vehicle they'll rarely see, unlike my main dealer. Today saw 2 staff members out in cars and on the phone searching for a dashboard backlight bulb. Found, fitted and sent on my way a very happy man. I'll be back... regularly.
By Robert Fowles -
22/03/2012

Fast Freindly Service
Value

Quality

Service

Overall
Friendly staff and prices. Always manage to work around YOUR schedule. work done includes new clutch, service, MOT, replacement bulbs and advice on how to deal with previous shoddy workmanship for other garage. would and have recommended them.
By anita charles -
20/03/2012

An excellent business
Value

Quality

Service

Overall
I have used MGC for nearly 10 years now. I run 2 Alfa Romeos and have them both serviced/repaired by MGC. They offer good value, very clear description of problem/solution and professional approach to customer service. I am very impressed with the management and staff at MGC and can highly recommend them.
By Mark Mc -
06/03/2012

great service and value
Value

Quality

Service

Overall
always very good and prompt service; honest, highly professional, totally trustworthy.
By u schneider -
28/02/2012

great honest service
Value

Quality

Service

Overall
great service took my car in for a minor problem, was dealt with for free straight away would be my first port of call nextt time
By mark dale -
28/02/2012